This week we're talking 1980s graffiti. I've been driving past this old abandoned pub in Barnsley, South Yorkshire, for a few years now, on the way to see my old Nan.
It's the Bush Inn out on the Keresforth Hall Road in Kingstone and it had been looking nasty for a good few years, rundown, wrecked and neglected.
The Bush Inn, somewhere around 2010 
Graffiti In The Summer
Well, in the summer of 2015 it suddenly got a kickass 1980s graffiti vibe. On the walls there was everything from Ghostbusters to Miami Vice, The Lost Boys, Happy Mondays, Penelope Pitstop, The Goonies and a few that I didn't recognize, which you might be able to help me with. I drove past a few times, but never actually stopped the car and got out.
Parked out the front of the Bush Inn in October 2015. Popeye has arrived!!
Last month I was making the trip to Barnsley with my girlfriend and I finally decided to stop the car, take a look around and shoot some photos of the graffiti.
Pub Graffiti In Close-Up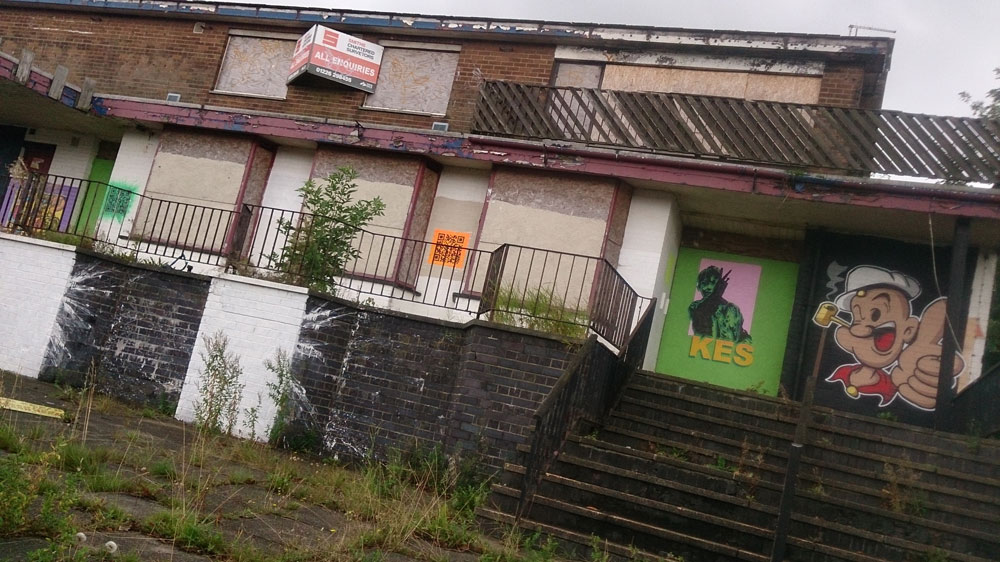 The front of the pub in August 2016. Popeye has been joined by some friends!
Popeye graffiti on the front of the Bush Inn
Down the side of the pub, not visible from the street, there's Dick Dastardly harassing Penelope Pitstop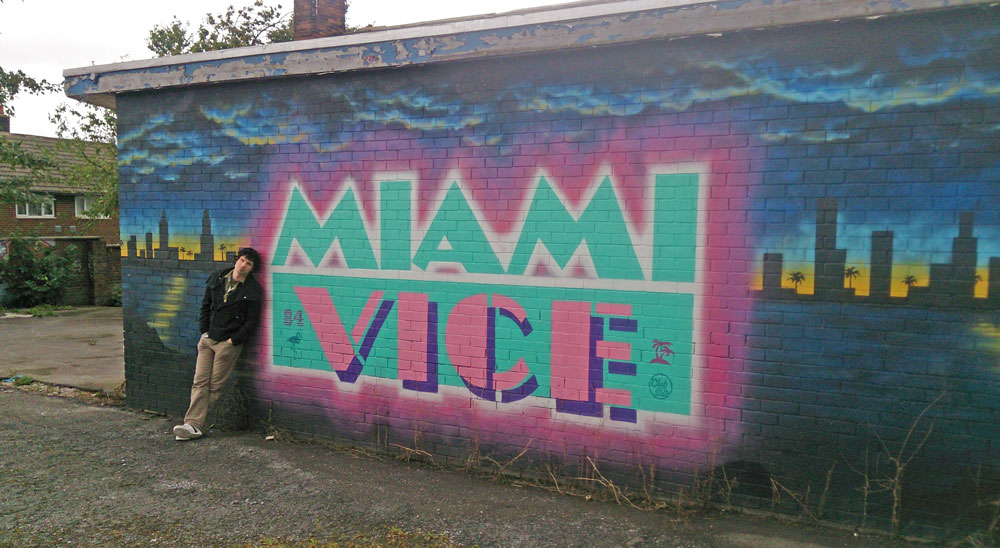 Miami Vice and me
Lots of 80s icons in this shot!
Could that be Craig David's original incarnation?
Who you gonna call? …erm, the Goonies??!
I have no idea who this dude is, can anyone tell me? Again, this was down the side of the building, hidden from the street.
If I were to to record a song, this would probably be the promo shot. "Folks, here we have Reduce The Impossible with their new single Connected Isolation." Pretentious? Moi?
The History Of The Pub
Now for a bit of history. From what I can gather, the Bush Inn was opened in 1844, when Keresforth Hall Road was a far more isolated place. 25 years later, in 1869, Barnsley became a municipal borough and the pub was thriving.
However, nothing lasts forever and it closed its doors for good in July 2008. In 2014 the Bush Inn was the subject of an arson attack and since then there have been rumours of demolition and it being earmarked as a new plot for an NHS clinic.
.
Then in July 2015 a local graffiti artist and community worker, David Cross, decided to brighten up the pub, creating the crazy graffiti murals that you see in the photos above. To make it all the more apt, the dude actually used to work at the Bush Inn pub. And because he had worked there, he got in touch with the brewery to tell them what he was planning to do. Turns out that because it was in such a state they were happy for him to paint whatever he wanted.
Nice work Davey boy!!
What Do You Think?
What do you think to this graffiti in Barnsley? Do you believe it's even pure graffiti if the artist has asked for permission? Have you seen any great graffiti lately that you want to shout about? Maybe you think it's an eyesore. Come on, let me know what's going on in your noodle, I'd love to hear your take on this.